The Sum is Greater than the Parts

Your IT shouldn't be so steampunk, requiring a series of levers and pulleys just to send an email. Log in. Re-log in. Click this button. Click that button. All the security checks and firewalls. It'd be easier to send everything through your Gmail account.
Your IT doesn't have to be a Rube Goldberg machine, with parts much greater than the sum.
You're not alone. We talk to many business owners who complain about their IT process and how to minimize effort and maximize output.
This is where IT outsourcing shines.
Simplify your IT with managed services:
Routine hardware maintenance
Automatic patches and updates
Ongoing IT support
Flat, monthly rate
Proactive network monitoring
And much more
Get Empowered with
IT Outsourcing
It's okay to hate your current system. So many companies adapt to their own chaotic systems. Their IT support consistently re-rigs the network to keep you limping along.
We maintain your technology. You focus your efforts on what's most important: growing your business.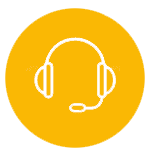 We keep an eye on your network. Any errors or issues that pop up are dealt with before they evolve into a problem.

Whether you're in the office of working from home, call us whenever anything acts funny, and we're on it as fast as possible.
There's no better time than the present to outsource your IT. Managed services is a great way to streamline your IT budget and get your IT network to function how you need it. Plus, you take the burden off your shoulders so you can focus on your business.
Pull the plug on your Rube Goldberg machine. Outsource your IT with RedNight Consulting.
10 Technologies that Help You Work from Anywhere
IT outsourcing lets you work from anywhere with improved productivity and ideal collaboration without compromising cybersecurity. Read our free whitepaper.
read
"72% of decision makers say technology solutions helped significantly improve business outcomes. "

Do you have questions about IT outsourcing?
Let Us Be Your

IT Partner
Are you ready to hand your IT management off to passionate people who live and breath technology solutions?
Call Now
Let's set sail together