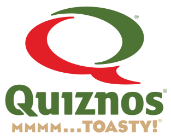 Quiznos corporate needed a solid support structure within their organization that enabled both rapid and scalable IT response to franchised operations. By leveraging RedNights managed IT support and Amazon WorkSpaces knowledge, they were able to attain both.
"It's been fantastic. We're spending less than half of what we were on our previous IT infrastructure. We're really treating RedNight as a close IT partner."

Ron Lund, Senior VP
Rego Restaurant Group
Under new management, Quiznos was seeking a cost-effective and efficient IT infrastructure that they could rely on to keep their operations running smoothly. That included things like day-to-day support, as well as an entire system infrastructure that helped them scale better with franchises.
Up until that point, they used in-house IT support and locally-based systems that were inefficient and extremely costly. Their IT support wasn't proactive and would often take multiple days to get back to their users that needed support ASAP.
Because they lacked the flexibility of working on a reliable cloud-based platform, they were also limited to having on-site employees to work for them.
RedNight introduced an airtight implementation plan to phase them out of current support. Systematically, there were changes to switch them to a plan that helped them better align their IT budget and business goals to get them to where they wanted to go.
Introducing Amazon WorkSpaces to Quiznos helped them formulate more effective workflows throughout the organization. Team members now collaborate seamlessly to connect and work from anywhere in a much more productive and efficient fashion.
Because Quiznos was able to expand their effective work range, they now outsource more of their talent, especially in regards to creative work on the brand. With lower costs, greater flexibility, enhanced security, and better support, they've been able to grow and succeed at a much better rate than ever before.
"Because of the cloud arrangement and virtual desktops, our folks can now work remotely from anywhere. It's a real positive that's made a huge change for the better for us."

Ron Lund, Senior VP
Rego Restaurant Group
RedNight helped Quiznos cut their annual IT expenses by 50% and secured fragile legacy infrastructure with a migration to AWS infrastructure as well as the implementation of Amazon WorkSpaces.
We can help you strategically determine cloud options to increase your ROI and get your business to where it needs to go.
Let Us Be Your

IT Partner
Are you ready to hand your IT management off to passionate people who live and breath technology solutions?
Call Now
Let's set sail together