"Success is a journey, not a destination."
— Ben Sweetland
When you own and operate an SMB, regardless of the industry, your "to-do" list can seem overwhelming. As you tick one task off after the next, you begin to realize that certain aspects of your business take priority over others — especially in terms of efficiency and security.
In today's modern business world, information technology is imperative. Whether you are currently in the startup stage of your small business or are planning to accelerate the growth of your thriving company, you need to focus on IT planning in order to achieve your goals.
To do so, you'll need to develop a clear long-term strategy and budget accordingly.
Small and Medium-Sized Business Continue to Invest in IT
Whether you have been in business for one year or six, it is never too early (or too late) to implement a high-level strategy and budget in regards to your IT needs. More specifically, a budget that takes your unique business into consideration.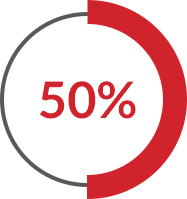 Unfortunately, approximately 50 percent of small businesses fail after five years in business.
Although this failure rate is based on a range of variables, poor management tends to be a key factor.
Based on current IT trends, the number of failed businesses may decline as more and more SMBs invest in IT spending. From cloud solutions to network security, IT support and maintenance can make all the difference — especially when planning to scale.
Whether you'd like to boost productivity or better protect your data, you need to invest in IT solutions today, in order to protect your business tomorrow. After all, it is said that 50 percent of global SMB spending will be on software and IT services by the year 2020. That is why in order to stay competitive, you must address your IT needs as soon as possible.
To give you a better understanding of how SMBs are spending their IT budget, a recent Capterra report showcased the top ten purchasing intentions for 2019 and 2020. In summary, the respondents who budgeted for tech, mainly plan on investing in accounting solutions and cloud computing, as well as data and info security.
If you can relate and are planning to implement an effective long-term IT strategy, it's time to start budgeting accordingly.
IT Planning Starts with a Strategic Budget
Budgeting and business planning go hand-in-hand, which is why you should focus on best practices from the get-go.
Although every business is unique and there is no "one size fits all" strategy, there are common principles and processes that apply to the majority of SMBs. Of these associated processes, budgeting ensures that the right systems are implemented based on strategic, operational, and financial planning.
Once you develop your IT strategy, your budget will act as a numeric manifestation of your long-term goals. For example, if you plan on migrating your company's infrastructure to the cloud, your budget should reflect that specific goal.
Of course, your level of IT planning will depend on the overall complexity and sophistication of your business. However, regardless of your current needs, your budget should be well-organized, representing various categories.
From specific project expenses to software fees, network infrastructure to external support, you need to consider each and every element so that you can better manage your company's cash flow.
Bottom line: When creating your strategy and in turn, your budget, focus on your core initiatives, capabilities, and long-term goals. In addition, if you would like to maximize your IT budget so that it is as streamlined and efficient as possible, you may want to consider managed IT services.
The Link Between IT Planning, Budgeting, and Scalability
When you learn to truly leverage IT as a competitive advantage, you will experience significant growth and overall scalability. Even if you have a limited IT budget, you can maximize efficiencies, simply by understanding how IT impacts your business.
IT budgeting is simply a proactive investment. From Office 365 to cloud computing, these types of strategic investments will help you save time and increase productivity, which in turn, will allow you to maximize revenues. However, if you start investing without considering IT planning, you could negatively impact your bottom line.
Once again, this is where a strategic partner comes into play. By working with a managed IT services team, they will help you ensure that your IT plan and budget align with your specific needs. By investing in the right technology, your business can excel — all while remaining within your budget.
As you learn to properly allocate resources, especially in relation to IT planning, you will be able to boost your bottom line quickly and efficiently. After all, if you do not invest in technology, you risk falling behind your competitors.
For more information, please refer to the following resources: