Technology is used in most business processes, in most companies, on most every day, so it makes sense that tech should be an integral part of yearly budget planning. Every business needs IT support and managed services to run properly. You'll not only need to account for any technology that needs to be purchased or replaced in your end of year (EoY) spending, but also forecast for IT trends that could keep your business moving forward. This guide will provide useful budgeting tips and show you some innovative ways to incorporate the right tech into the mix.
Budget with goals in mind
Before you begin creating a budget, write out goals you want to accomplish in the coming year. These should be based on the bigger picture of where you would like your business to be in the next five to ten years. For example, perhaps you'd like to focus on creating a customized IT strategy for your business.
Once you've established a few goals, you'll have a clearer idea of how and where your money should be spent. Then you can begin breaking down your budget into categories and planning how much money to allot for each.
Plan your budget
When planning your budget, begin by determining how much money you have to spend for the coming year. Track your expenses from the previous year and figure out what new expenses you may incur for the budget you are planning. This includes any new IT you might need to purchase, departments you may wish to expand, etc. Then, consider what expenses you may need to eliminate to make room for the new ones.
Plan for wiggle room. You never know what unexpected expenses may come up, so you definitely will need to think outside the box with your preparations. Expenses can include equipment for new employees, technology to ensure faster connections, new software, consultation from an information center, and so on.
Keep track of your budget
Keep track of your budget while you plan. One great way to do this is by using an app or online tool specifically created for budgeting that will help you manage how much you spend. There are several to choose from, all with various features and capabilities. Most are inexpensive, so think of it as a worthwhile investment for your business.
Budget for positive change
When planning your budget, think ahead. What drives you to make positive changes within your business? Once you answer this question, consider what it will take to make those changes possible so you can uncover the possibilities and incorporate the necessary technology into your budget.
When creating a budget, maintain a positive mindset.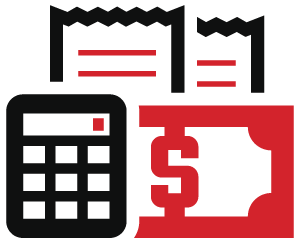 "Instead of seeing it as a hurdle, consider creating a budget a positive move that provides you with a helpful business tool."
This means understanding your business risks and how you can leverage IT to diminish them.
Likewise, identify what could cause the most substantial threats to your company and the financial impact they might have overall. How can you minimize these threats?
Budget for technology
Budgeting for technology is more than just figuring out what equipment is needed to keep your business up and running. You also need well-qualified staff to keep that IT working at all times, as well as the resources to troubleshoot and resolve problems as they arise.
Keep up with current IT trends or consult someone within your organization whose job it is to ensure all business processes continue running smoothly and efficiently. Keep in mind the most expensive technology isn't always the best solution. That's why it's also a good idea to consult with a professional who understands your needs and can help you choose the specific technology to fit them.
Find out what your competitors are spending on their IT. Research companies that are similar in size and industry as yours and learn how these organizations budget for technology.
Take inventory of what you are already using. You need to understand what resources and technology your business has and what is needed to remain competitive and relevant.
Prioritize your IT list. A successful IT budget will account for several items including:
Company needs
IT support
Routine IT maintenance
Hardware and software licenses
System replacement costs
Unexpected system outages and failures
Once you consider all these aspects of your IT department, put them in order according to actual need, and budget accordingly.
Budget with flexibility in mind
Flexibility is an important part of budgeting. It allows for unforeseen circumstances, changes, and growth within your company. When you budget for flexibility, you plan for the possibility all these things might occur, which is why you should never budget at 100%.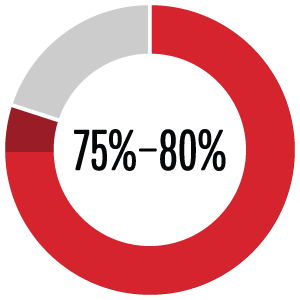 "Budgeting at 75-80% allows your organization to be nimble and prepared for anything to change."
Budget for positive outcomes
When putting together your end of year budget, think of the positive outcomes you wish to receive and plan for them. There are a number of pros and cons to consider in terms of IT.
Chances are, all your business processes depend on technology. This is definitely a pro that can work for you. When the right tools are in place, you can exercise forward-thinking strategies and be innovative. Technology also gives you more ways to collaborate with others. Remote work has become more popular than ever in recent years, enabling employees to live almost anywhere and still work as members of successful teams.
IT starts with a better foundation. Companies are turning to the Internet to improve the ways in which they operate. This can be both a pro and con, depending on how it is used. For example, software-as-a-service (SaaS) solutions are used "to open up and unify operations, shed the growing costs of on-premises technology maintenance, shrink implementation times, and promote data integrity." This is a pro as long as those solutions are relevant and really do enable employees to remain productive over time. It is a con if the software doesn't not work as expected, and a company doesn't have the right resources in place to resolve issues when they arise.
Cloud computing is another service that can go both ways. While it's great to have information on-hand at all times so employees can access it from anywhere, all that information can be lost if no backup measures have been put into place.
Prepare for Change
Lastly, prepare to change your budget if and when circumstances dictate. Perhaps a certain piece of technology isn't performing as it should, or you need to add resources that will increase IT troubleshooting abilities. Making changes to your budget will allow you to ensure the right IT equipment and resources are always available so all your business goals will be met.
Want to know more about incorporating IT into your day-to-day processes? Learn about RedNight consulting and how we can help take your business to the next level.