Dramatic advances in technology have created a digital culture.
Businesses in every industry are now dependent on internet-based applications to manage everything from process flow to customer relationships. Outdated IT infrastructure impacts all major aspects of successful operations, from attracting and retaining a quality workforce to getting product delivered on-time, as promised.
Staying current with technological updates is a complex endeavor. Identifying the best solution for a company's needs is a challenge when there are so many options, and upgrading hardware and software is costly. Fortunately, new developments in the area of business IT are changing the approach to meeting technological requirements.
One of the most exciting is VDI (Virtual Desktop Infrastructure).
A Quick Guide to VDI
Traditionally, staff members have connected with business infrastructure through laptop and desktop computers. Business IT strategies were based on a foundation of independently functioning machines linked to a larger company network. Today, even the most fundamental elements of IT infrastructure are being reconsidered, and VDI is transforming the basic assumptions of IT strategy.

VDI creates a system in which a single massive computer supplies resources like drive space, memory, and processors to all linked machines, including desktops, laptops, and mobile devices. Any device with access to the internet can connect.
Hypervisor software known as the Virtual Machine Monitor (VMM) divides the resources among connected devices to ensure smooth operations. This method centralizes business IT functions, such as data storage and security, and simplifies tasks related to IT support and maintenance.
VDI, By the Numbers
Though a rudimentary form of VDI was introduced as early as 2006, it wasn't a widely considered technology solution until years later. Today, the technology has advanced beyond its early flaws, and momentum is building for large-scale deployment.
In 2016, the global cloud-based VDI market was valued at $3,654 million
North America leads the world in VDI adoption, with the 2016 market valued at $1,501 million in 2016
Increases are expected at a compound annual growth rate of 16.5% through 2023
By 2023, the value of the global cloud-based VDI may exceed $10 billion
Most of this growth will come from small and medium-sized businesses
Organizations across every industry and around the world are tapping into the power of VDI to realize a wide array of benefits.
Building Your Business with VDI
The specific impact VDI will have on your organization depends on the business problem you want to solve. Some of the most common benefits realized after VDI deployment include the following:
Improved Collaboration
It is increasingly necessary for companies to combine resources during the completion of major projects, whether due to a merger, acquisition, or joint venture. In some cases, businesses and their clients have a need to collaborate real-time through remote access to a single network.
VDI makes such partnerships faster and easier, reducing the need to develop one-off solutions for each application.
Hardware Reduction
It's nearly impossible to do business without digital access, but purchasing and maintaining computers and other devices for each staff member is costly.
Through VDI, many organizations have been able to reduce their hardware inventory, as employees can access needed business resources with a Bring Your Own Device (BYOD) program.
Disaster Recovery
All sorts of events can take a company offline, from hurricanes and tornadoes to fire. Every minute that an organization disconnects, it comes with substantial hard and soft costs. VDI creates an immediate disaster recovery solution, as connections no longer depend on a collection of individual machines.
Instead, all business-critical IT infrastructure stays in the cloud, accessible from anywhere, anytime.
Security
The news covers large data breaches on a regular basis, but these stories don't begin to show the true extent of the problem. Cybercriminals are growing more sophisticated, and they are targeting businesses at higher rates.

Experts believe that more than half of all attacks are not reported, and they estimate that the true volume could be closer to 350,000.VDI dramatically reduces security risk, because individual laptops and devices do not hold sensitive data. Instead, all of this information resides within a data center.
In addition, updating malware and antivirus software is less labor-intensive, and firewall protection is simpler to implement. And, if an attack succeeds, VDI makes it easier to access the backups.
IT Management
IT professionals spend much of their time on resolving issues for individual users.
VDI reduces the need for this type of support, because individual devices serve as access points only. The central unit stores all the applications and information. This feature offers two significant benefits.
First, you get cost savings and spared expenses related to IT management and support. Second, users are far less likely to face the frustration of system issues, which improves employee engagement and productivity.
Virtual Workspace
The remote workforce is growing, and all trends indicate that business will see more virtual employees in coming years. VDI plays an important role in keeping remote staff members online and engaged.
They have anytime, anywhere access to the software and data required to complete their work, without the issues that come with a traditional laptop or mobile device.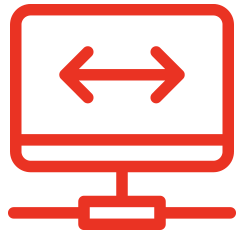 VDI for Your Business
We've given you a lot to think about.
The fact of the matter is, VDI can be a game-changer in terms of how your business operates. Keeping mind growing adoption rates, evolving features, and a massive amount of benefits that you can experience, it's well worth the effort.
We're here to make the implementation of a virtual desktop infrastructure smoother than ever. We consult you on how it's going to happen, and we're there for you during each step of the actual implementation.
Interested in learning more? Talk to one of our experts today to see how we can help you.